Cuckhead's Tutorial
Jump to navigation
Jump to search
Welcome Cuckheads, you have joined the game for the first time and spawned at 160, 64, 208.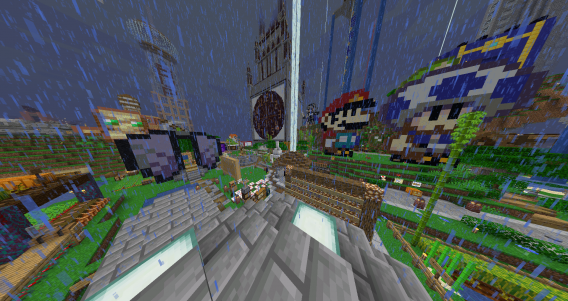 You will find Starter Loot to the left of the Rules Board Including Diamond Armor, Cooked Pork Chops, An Unbreaking 3 Mending 1 Elytra, (a stack of fireworks), and an Iron Farm at 135, 64, 226.
The path behind the Rules sign goes left and right, go left to explore builds and the Clocktower that tells the Server's time.
Go right to find a Free Items House that players restock in the chests. Below the Free Items Building (ladder inside) there is a free mending books area, you can take 3 a day, but any more and you will be banned.
Left of the Free Item House is a path that leads to a free Shulker Building at 70, 70, 111 (Magenta building).
You can make 1 Shulker every week from the materials in the Building, but make sure to log your name in the book.
To the right of the Shulker Building is one of many community farms that you will find