GlitchGlider
Jump to navigation
Jump to search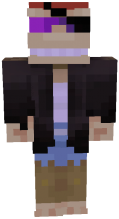 GlitchGlider is a music engineer on the Simpleflips Minecraft Server.
When Glider first adventured for land he settled in a savanna mountain next to a neglected desert village. He started working on personal music projects and eventually started commissions, which he rarely did.
He cured two underground zombie villagers and bred them to revive the village. Eventually, this became Amazon Dry, a villager trading hall.
Music Land is where most of Glider's music projects are placed. These include: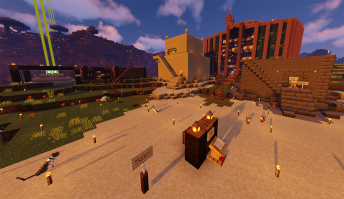 Song Name
Commissioned By:
Location
Percent of song and Minecraft accuracy loss
Glass View
Other notes
Marble Machine
GlitchGlider
West Music Land
Includes the main melody with and without drums.

Does not have the vibraphone solo.


Kinda lossy; The bass guitar is not glissando.

The tempo is relatively accurate.

First song built
Angry Aztec
GlitchGlider
West Music Land
Includes the main melody and beat without the choir.


Extremely Lossy; The tempo is majorly incorrect.

I made a song based on this song
Magical Music Theme
GlitchGlider
Magical Music Shop
Replaces choir with guitar.
This is a solo of the choir riff from my unreleased project Zone.flp
Gangnum Style
Dr_Peopers (Banned)
West Music Land
Includes a tiny riff of the most recognizable phrase.


Really Lossy; The tempo is slightly incorrect.

Inaccurate instruments.

(YOLO SWAG!)
Funky's Flights
GlitchGlider
West Music Land
Not finished


Includes the melody, ostinato, and beat.


Slightly Lossy; The tempo is relatively accurate.

Missing hi-hats.

Castlevania Wood Carving Partita
VeritasDL
Vertias' Castle
Includes the entire song


Slightly lossy.

(Not available)
Yum, yummy diamond. yum.